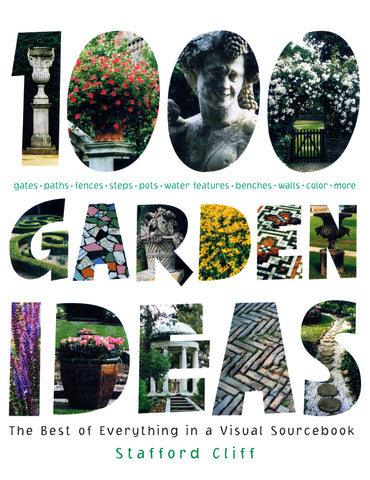 1,000 Garden Ideas
THE BEST OF EVERYTHING A GARDENER COULD WISH FOR

In more than forty years of travel, Stafford Cliff—designer and gardener—has gathered a planet's worth of inspiration on elements to enhance a garden. The result is 1000 Garden Ideas, a visual encyclopedia bursting with just about every garden idea ever invented by man or inspired by nature, artfully presented in more than 1000 photographs.

Plantings may be the essence of the garden, whether it's a tiny patch in the backyard or acres of land extending for as far as the eye can see. But elements worthy of the planting can take a garden to unique and exciting new heights.

With a designer's eye and a gardener's heart, Cliff has assembled an endless array of ideas, from all over the world, to make a garden more personal: fences and pools, paths and benches, statues and waterfalls, borders and bridges— even birdhouses and follies. Within each category are hundreds of illustrated examples, ranging from traditional to contemporary; from simple to complex; from homey and rustic to downright Byzantine. It's all here, whatever your taste, your need, or your fantasy.

And if you're breathless with so many choices, Stafford Cliff is there to help you arrive at the best decisions for your own particular space, through a series of questions:

•Do you want privacy or maximum light?
•Do you envision a contrast to the style of your home or neighborhood, or complete harmony?
•Do you prefer peace and quiet, or the soothing sounds of rustling leaves, bubbling water, and bird song? There's glorious visual advice on plants and plantings: what kinds of containers to put them in; how to use them in your space; what to surround them with; and much more. In addition, an extensive list of suppliers makes it possible for you to turn inspiration into reality. If you're a seasoned gardener, or even if you're an aspiring one, this is a book for you, lush with ideas for the garden of your dreams.