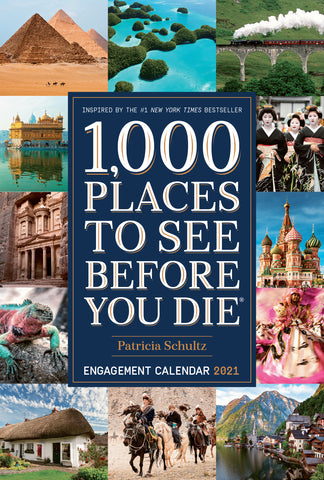 1,000 Places to See Before You Die Engagement Calendar 2021
Indulge your wanderlust.

The 1,000 Places to See Before You Die Engagement Calendaris a weekly diary that celebrates the world's most beautiful, most culturally rich, most distinctive destinations and attractions, spotlighted in 89 full-color photographs and evocative text by Patricia Schultz. A stunning view of Mount Fuji, high above the cloud line. A portrait of a cheetah family on Kenya's Masai Mara. Plus Singapore's whimsical Gardens by the Bay, kayaking the pristine waters of Prince William Sound, and the ruins of Hadrian's Wall winding through the English countryside. The spacious grids feature plenty of room for writing in all your daily appointments and reminders—like booking your next adventure. Stop dreaming and get going. Printed on FSC-certified paper.