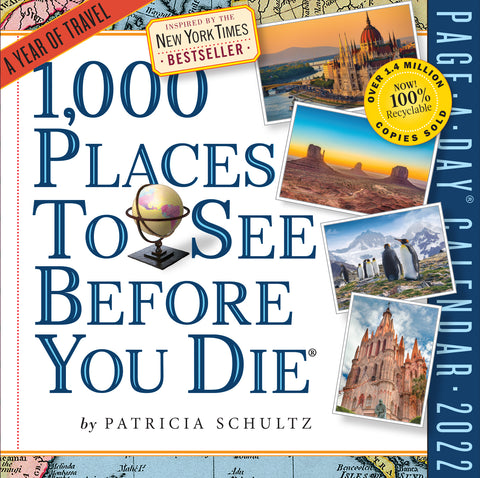 1,000 Places to See Before You Die Page-A-Day Calendar 2022
See the world—without leaving home.

And when you're ready to travel, know exactly where to go. Based on 1,000 Places to See Before You Die—the top-selling travel book of all
time—this bestselling calendar features hundreds of destinations, adventures, and wonders to inspire the travel lover. India's
Bandhavgarh and Kanha national parks, where you may catch a glimpse of a rare Bengal tiger. Cutting-edge architecture, from the Frank Gehry–designed Fondation Louis Vuitton in Paris to the UAE's modern-meets-historical Sheikh Zayed Grand Mosque. The celebrated wineries of Australia's Barossa Valley. Plus Traveler in the Know tips, On This Day, quotes, and Global Intelligence quizzes. Printed on FSC-certified paper and 100% recyclable.