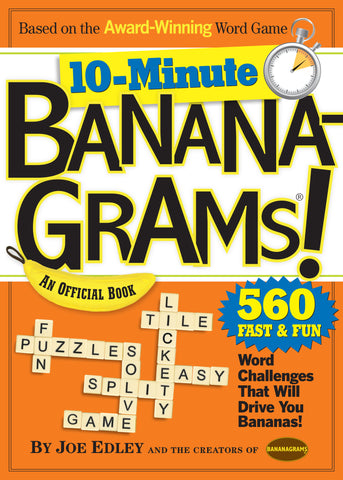 10-Minute Bananagrams!
Everyone loves Bananagrams! And everybody loves instant gratification. Putting the two together, master puzzle maker Joe Edley offers 10-Minute Bananagrams!— over 500 all-new puzzles that are designed to be solved in ten minutes or less. This is lickety-split Bananagrams, perfect for the train, the bus, waiting rooms, bank lines, for carrying wherever and whenever a Bananagrammer has just a few minutes to indulge the obsession.

With two difficulty levels—the easier one-half banana and trickier one banana—these bite-size puzzles are quick to solve and highly addictive. Ten lively, mind-bending puzzle types are featured, including Banana Peels (add letters to words, then anagram); Banana Pudding (extend two-letter groups into six-letter words); Bunch of Bananas (anagram one word into two smaller words); plus the brand-new Banana Bites, in which the solver anagrams a group of letters to complete a word. Supplementing the Bananagrams are fun banana facts, helpful word lists, and, of course, an answer key.