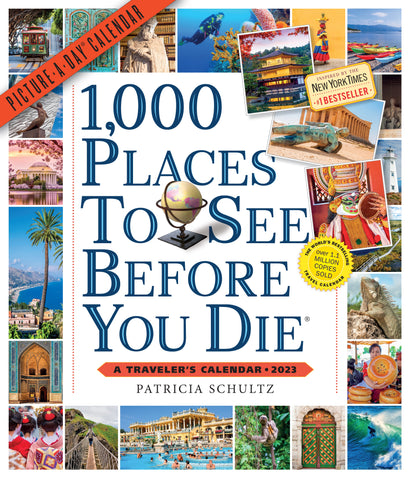 1,000 Places to See Before You Die Picture-A-Day Wall Calendar 2023
Travel the world (with or without leaving home) all year long.

It's daily inspiration to stop dreaming and get going, whether getting on a plane or daydreaming in your armchair. From Patricia Schultz, author of the #1 New York Times bestselling travel book 1,000 Places to See Before You Die, this calendar delivers a monthly itinerary-in-photographs of a fascinating destination. Take off to the rugged coastline of Northern Ireland where molten lava created the Giant's Causeway, and visit Belfast for lively pubs and the shipyard where the Titanic was built. Visit Colombia for Bogota's colorful urban street art and a luxury camping experience in thatched huts near jungle hiking and pristine beaches. And celebrate spring among the cherry blossoms of Washington, DC, with a side visit to the pandas at the National Zoo. Each month features a large image at the top of the page, dozens of smaller photos throughout the grid, and lively and informative text revealing hidden treasures and offering fresh insights into popular tourist sites.