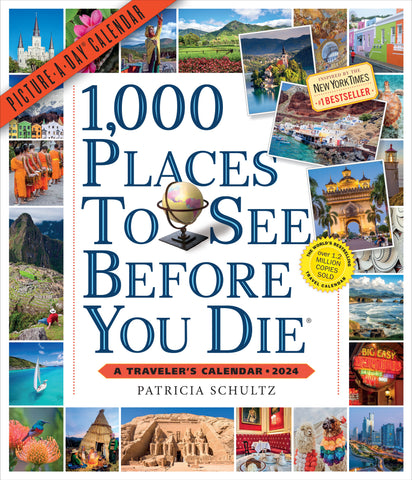 1,000 Places to See Before You Die Picture-A-Day Wall Calendar 2024
Your year of adventure starts here.
Explore the world without leaving home. Adapted from Patricia Schultz's #1 New York Times bestselling book, here is a year of amazing destinations: Canada's scenic Cape Breton Island, notable for having fiddlers per square mile than anywhere in the world—a tradition passed down from the Scottish Gaelic ancestors. A Nile River cruise, where you can sail into ancient history. The white sand beaches and blue waters of the US Virgin Islands. Plus, whale watching on the Oregon coast, Peru's astonishing Nazca Lines, and the magic of December in Austria. Each spread is an itinerary-in-photographs, with dozens of full-color images accompanied by engaging text packed with history, highlights, and traveler's tips. Printed on responsibly sourced paper and 100% recyclable.