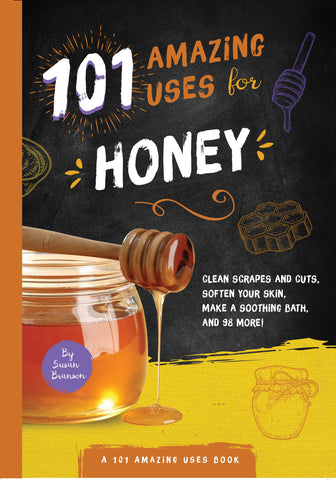 101 Amazing Uses for Honey
Honey: this sweet, golden nectar with a low glycemic index has made a big comeback as a natural sweetener. But honey isn't just to sweeten your tea! Its incredible health benefits range from treating anemia to increasing calcium absorption to fighting off colds! Holistic nutritional consultant Susan Branson provides 101 useful—and scientifically documented—reasons to add honey to your diet and daily life.
Millions of people are turning away from the harsh effects of modern solutions and back to the gentle but powerful benefits of nature's oldest remedies. In her 101 Amazing Uses series, Susan Branson, a holistic nutritional consultant, expertly outlines 101 incredible uses for apple cider vinegar, ginger, essential oils, coconut oil, and more. Each book is divided into tabbed sections filled with a total of 101 easy-to-read, bite-sized benefits for everything from health to beauty to household cleaning. Promote healthy skin, reduce stress, boost your metabolism, tenderize meat, and more with these simple, accessible, natural solutions.