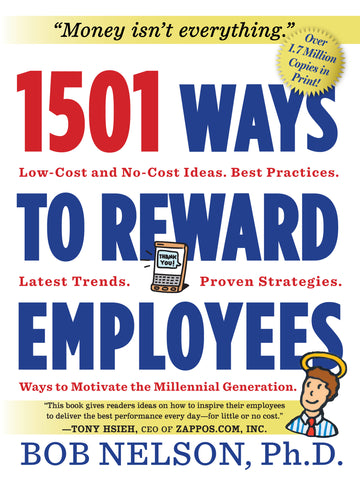 1501 Ways to Reward Employees
Today more than ever, businesses need fresh ideas to nurture talent and retain employees—enter 1,501 Ways to Reward Employees, thoroughly revised, updated, and even more chockablock with ideas than 1,001 Ways to Reward Employees, the groundbreaking national bestseller.

Adapted to meet the needs of an evolving workplace—especially to deal creatively with virtual employees, freelancers and permalancers, international colleagues, and the rule-bending expectations of millennials—its 1,501 low-and no-cost rewards and strategies are drawn from thousands of companies across the globe. Ideas range from the informal (Wells Fargo's thank-you e-cards) and the offbeat (JS Communications two free "I Don't Want to Get Out of Bed" Days) to the formal (J. C. Penney "affirms" new managers in a moving ceremony) to the totally nutty (the legendary honor of having your office "sodded"—literally, grassed over—at Microsoft). For bosses, managers, entrepreneurs, small-business owners, consultants—anyone who's responsible for working successfully in an ever-tougher economy—this is the rewards bible.