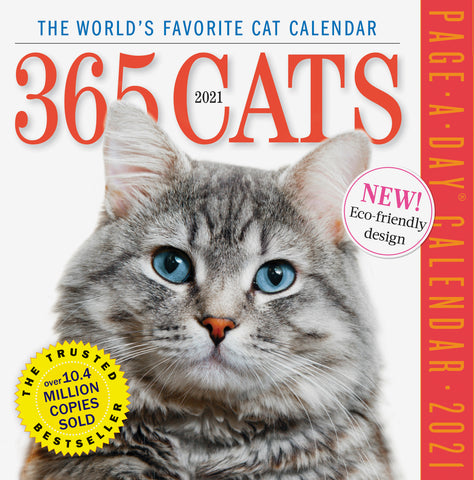 365 Cats Page-A-Day Calendar 2021
It's the superstar of cat calendars, and the superstar of all calendars. 

Featuring the distinguished winners of the annual Cat Calendar Contest, 365 Cats has done it again! Here are America's cutest, feistiest, and most photogenic felines in beautiful full color. A bright-eyed tabby ready for dinner. A striking Siberian—which, despite its abundant fur, makes a good pet for the allergic cat lover. Energetic Abyssinians, an exotic hairless Sphinx, and a sweet tuxedo napping in a cozy hammock. Includes breed information, health and care tips, and wise words: "Cats never strike a pose that isn't photogenic."—Lillian Jackson Brown.
 
Printed on FSC-certified paper and introducing a new eco-friendly cardboard backer.