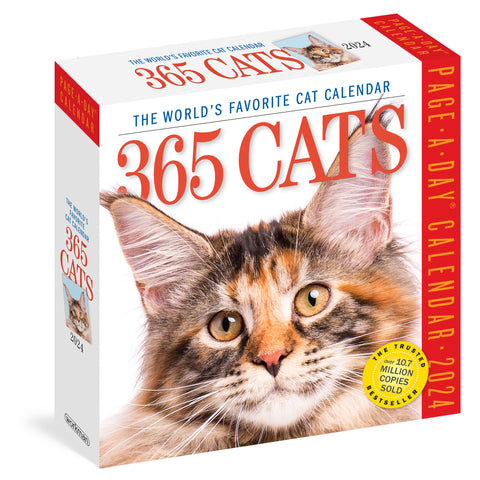 365 Cats Page-A-Day Calendar 2024
All new photos for 2024! More Cats, More Attitude, More to Love.
For cat lovers, there's no such thing as too many cats. And this is the calendar that proves the point, starring the hundreds of winners of the 2023 Cat Calendar Contest showing off their sweet and adorable antics. Like a fluffy Maine Coon perched on a snowbank. A tabby studying herself in a mirror. A sassy black cat tickling the ivories with gusto. Plus personable Siamese, distinctively patterned calicos, elegant Abyssinians, and innocent yet mischievous little kittens. The beautiful full-color photographs are accompanied by relatable cat quotes, care tips, and surprising cat facts. Did you know that not all cats have the same number of bones? (The number can vary depending on the length of the tail.) Printed on responsibly sourced paper and 100% recyclable.