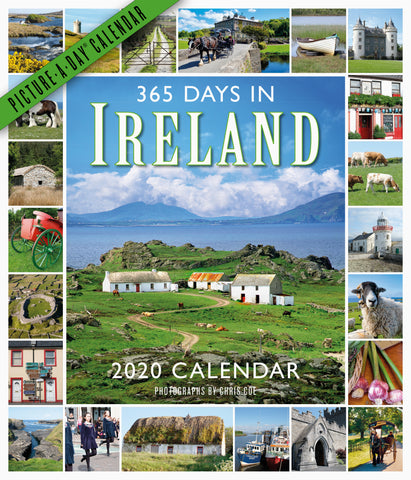 365 Days in Ireland Picture-A-Day Wall Calendar 2020
The beauty of Ireland, 365 days a year.

Castle ruins. Majestic mountains dotted with fleecy sheep. The merry din of live fiddle playing and spirited conversation in pubs. Regions that sound as rhythmic as poetry: Kilkenny, Tipperary, Sligo. Capturing the verdant beauty and sense of enchantment that set the Emerald Isle apart, 365 Days in Ireland features hundreds of full-color photographs and insightful, informative text about its finest landmarks. Humorous Guinness signs and a perfectly poured creamy pint, a kiss for the Blarney Stone, a perch for reflection by the sea—and everywhere you look, miles upon miles of green. For travelers—and anyone with Irish ancestry.

Picture-a-Day® Wall Calendars include hundreds of gorgeous full-color and black-and-white photographs that indulge our hobbies, curiosities, and obsessions. Each month's grid includes a large image with informative text, plus additional images for nearly every day of the year.