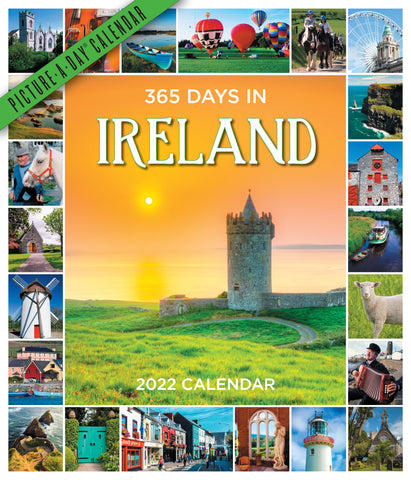 365 Days in Ireland Picture-A-Day Wall Calendar 2022
It's the Emerald Isle, up close.

So green, so lush, so charming. Ireland is a place with a spirit and a beauty all its own, and the perennially popular 365 Days in Ireland captures that in hundreds of full-color photographs. Each month focuses on the sights and features of one distinctive region, with one large image at the top of the page and dozens more in the grid below. Tour Laois–Offaly, from the extinct volcano on Croghan Hill to the revered Tullamore D.E.W. whiskey  distillery. Sligo–Leitrim, where W. B. Yeats spent fond childhood summers. Far west Galway, where Irish remains widely spoken in many parts. Plus,  lively, cosmopolitan Dublin. Every spread includes detailed text about the featured destination's history, lore, and attractions.Printed on FSC-certified paper.