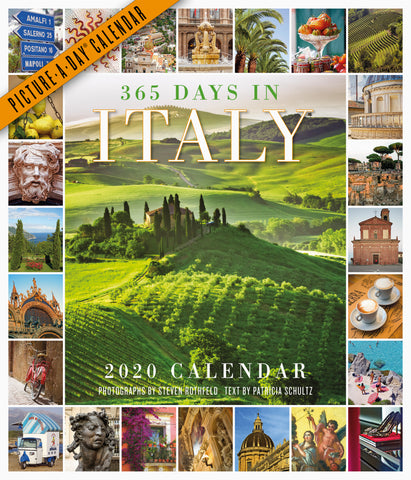 365 Days in Italy Picture-A-Day Wall Calendar 2020
La dolce vita, all year long.

Celebrate the most returned-to destination in the world. In hundreds of stunning, full-color photographs, this bestselling calendar puts Italy's irresistible Mediterranean charms on full display, month after month. Who wouldn't want to spend a year zipping around on a Vespa through Rome, or strolling through the rolling pastures of Umbria? How about savoring fresh burrata, admiring the ornate piazza fountains, or enjoying a wine tasting in a Tuscan vineyard? Written by travel expert Patricia Schultz, author of the #1 bestselling 1,000 Places to See Before You Die, 365 Days in Italy immerses Italophiles in the spirit of the country with evocative photographs and eloquent text.

Picture-a-Day® Wall Calendars include hundreds of gorgeous full-color and black-and-white photographs that indulge our hobbies, curiosities, and obsessions. Each month's grid includes a large image with informative text, plus additional images for nearly every day of the year.