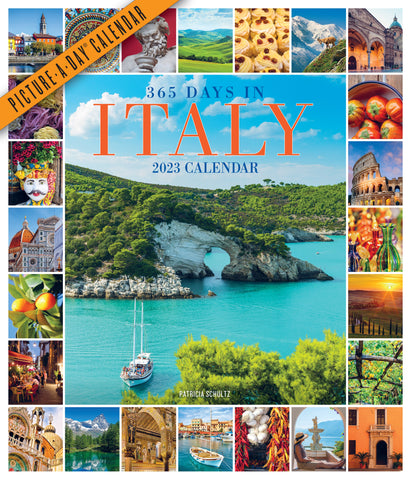 365 Days in Italy Picture-A-Day Wall Calendar 2023
Spend the year in Italy—marveling at its spectacular landscapes and architectural treasures.

Feel the power of Italy's deeply rooted history, enjoying its diverse and tradition-steeped culinary delights. Immerse yourself in Italy's wonders without leaving home. The winding, cypress-lined backroads of the Tuscan countryside. The extraordinary cave dwellings of Matera, one of the longest-inhabited places on Earth. Sunny seaside Sorrento, off whose shores Odysseus famously filled his sailors' ears with wax so they wouldn't be lured by the sirens' songs. Each month is a tour of a distinctive region, with dozens of full-color photographs, maps, and text packed with highlights, lore, and traveler's tips. Printed on responsibly sourced paper.