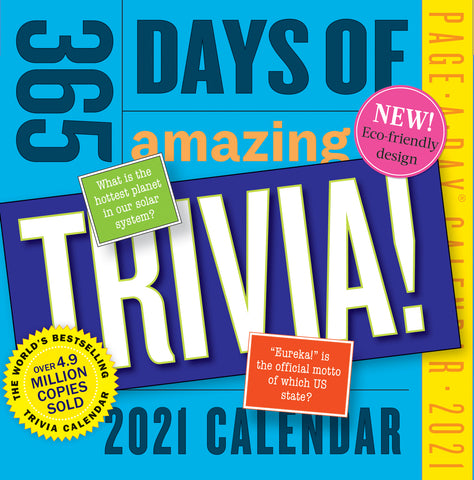 365 Days of Amazing Trivia! Page-A-Day Calendar 2021
365 Days of Amazing Trivia! delivers a fascinating factoid every day to trivia buffs, pub quiz regulars, and all lovers of unexpected and little-known knowledge.
Science facts:
What two kinds of birds are considered to be the closest living relatives of the Tyrannosaurus rex?
(Chickens and ostriches.) Sports facts:
Who was the first Olympic athlete to be disqualified for drug use?
(Sweden's Hans-Gunnar Liljenwall, for excessive alcohol consumption in 1968.) And surprising movie facts:
What was George Lucas's original name for Yoda, the Jedi master who first appears in The Empire Strikes Back?
(Buffy.)
Answers appear on the back of each page
Introducing new eco-friendly cardboard backer and larger page size!
Printed on FSC-certified paper