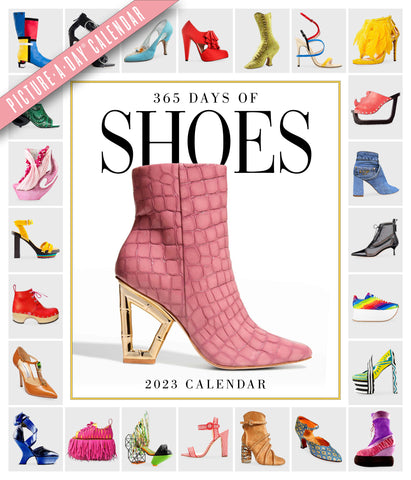 365 Days of Shoes Picture-A-Day Wall Calendar 2023
The calendar that celebrates footwear as art and as passion.

Shoe lovers and fashionistas, feast your eyes! These shoes are sexy, they're stylish, they're avant-garde, they're outrageous, and they're fabulous. There's Natacha Marro's abstract "Geisha" printed velvet boot with 8-inch platform sole. Endo Hack's space-age high-top sneaker with clear vamp and metallic "gems." And a stunning vintage flapper shoe with a harlequin appliqué motif. Each spread features a large photograph at the top of the page and dozens more in the grid below—because for people who love shoes, there's always room for one more pair. Includes quotes that speak to the obsession of the shoe lover. Printed in the USA on responsibly sourced paper.