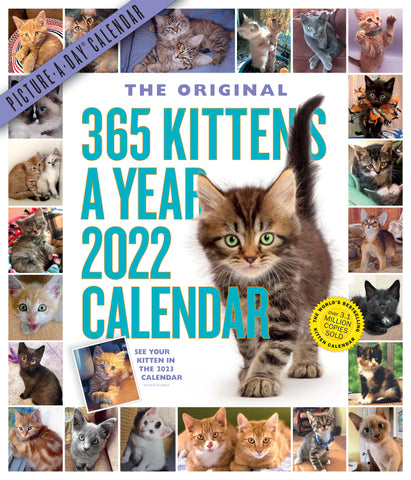 365 Kittens-A-Year Picture-A-Day Wall Calendar 2022
The world's best and bestselling kitten calendar!

People just can't get enough kittens, and 365 Kittens-A-Year delivers, with dozens of adorable photographs every month. Meet the charming winners of the annual Kittens of Distinction Contest, each one demonstrating yet another way for kittens to be cute. Kittens in baskets. Kittens hanging out in trees. Kittens going incognito in piles of stuffed animals. Lone kittens, pairs of kittens, and whole litters of kittens—posing, playing, 
snuggling. Each spread features a large image at the top of the page and more throughout the grid. Includes fascinating cat facts, care tips, and quotes: "A kitten is chiefly remarkable for rushing about like mad at nothing whatever, and generally stopping before it gets there." —Agnes Repplier. Printed on FSC-certified paper.