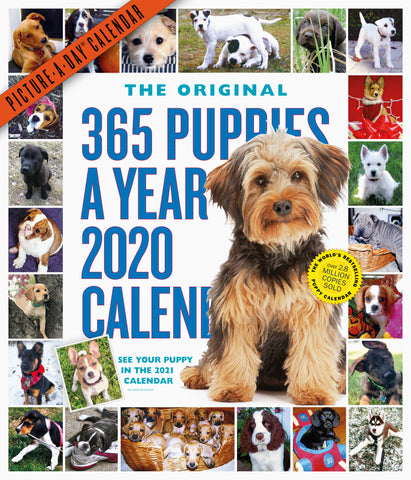 365 Puppies-A-Year Picture-A-Day Wall Calendar 2020
Warm, heartfelt, melt-your-heart photographs of the animals we love, all year long.

They're adorable, spirited, and as friendly as can be. Featuring full-color photos of the winners of the 2020 365-Puppies-A-Year Calendar Contest, who bring instant joy and comfort to every dog lover. One glance and all is well! Little Labs with that frisky "I want a treat!" expression. Sheepdogs that could pass for stuffed animals. Plus palm-size Chihuahuas, goofy Goldendoodles, and a sleek, strokable Vizsla whose warm, soulful eyes could melt your heart. With training tips and other puppy-care know-how. 

Picture-a-Day ® Wall Calendars include hundreds of gorgeous full-color and black-and-white photographs that indulge our hobbies, curiosities, and obsessions. Each month's grid includes a large image with informative text, plus additional images for nearly every day of the year.