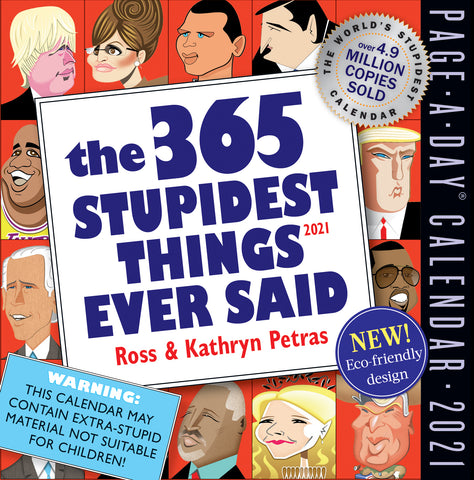 365 Stupidest Things Ever Said Page-A-Day Calendar 2021
A fresh year of idiotic utterances from celebrities, politicians, and athletes

That's right, it's back, the calendar that delivers a year of utterly inane utterances, tweets, headlines, signs, and commentary that will have you shaking your head—and laughing out loud. Amazing insight: Air is beautiful, yet you cannot see it. It's soft, yet you cannot touch it. Air is a little like my brain.—Actor Jean-Claude Van Damme. Staggering specificity: I have approximately two sons.—Former Russian Prime Minister Viktor Cherno. Plus mysterious menu items (Sea hibernation of insects head) language lost in translation, and hilarious headlines: VOLCANO IN HAWAII MAY SPEW FRIDGE-SIZED REFRIGERATORS —AP

Introducing new eco-friendly cardboard backer and larger page size! Printed on FSC-certified paper.