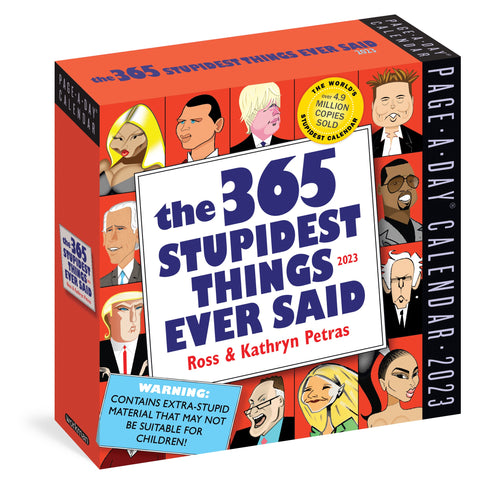 365 Stupidest Things Ever Said Page-A-Day Calendar 2023
 Another year of celebrity gaffs, malapropisms, and facepalm moments that will make you cringe—then laugh at the utter inanity of it all.

Badly worded governmental guidance: "You've got to have the get-up-and-go to stay at home during this threat."—Connecticut governor Ned Lamont. Contradictory sports commentary: "He's had his ups and downs but he's been consistent."—auto racing commentator Sally Nugent. Plus head-scratching headlines (POLICE: HORSE GIVEN VERBAL WARNING IN RUNAWAY INCIDENT), nonreassuring school signs (Bolton Academy: a Grate Place to Learn), and reasons NOT to call 911: "I got a new phone for Christmas and I wanted to be sure it was working." Printed on responsibly sourced paper and 100% recyclable.