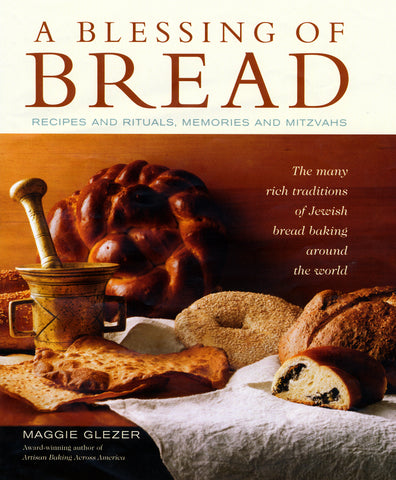 A Blessing of Bread
A Blessing of Bread grew out of an interview that author Maggie Glezer conducted with a rabbi's wife about the symbolism of challah, that bakery staple deeply rooted in Jewish traditions. Captivated by the myriad meanings in every twist of the bread's braid, she spent years doing research and recipe testing. The result is this landmark guide to the amazing variety of Jewish breads found in communities all over the world, from Guatemala to Russia and everywhere in between.

In it are more than 60 impeccably tested recipes both old and new, for challah and other Sabbath and holiday loaves and an exploration of the rich symbolism of their hisory, the rituals governing their baking and eating, and the sacred texts and commentaries from which these rituals derive.

There are best-ever recipes for babka and honey cake, bagels, matzot, crackers, and everyday breads such as Jewish-deli rye. It is also loaded with totally unexpected breads that thrill, such as anise, almond, and sesame-studded Moroccan Purim bread; the spiced and leaf-wrapped Ehtiopian bereketei (whole wheat Sabbath bread); and the pitalike nooni honegi of the Bukharan Jews. Oral histories, ancient legends, shtetl folktales, aphorisms, and proverbs delight and inspire, and stories of grandmothers and great-grandmothers that recall life as it once was complete this volume, the most in-depth and wide-ranging one ever published on the subject.