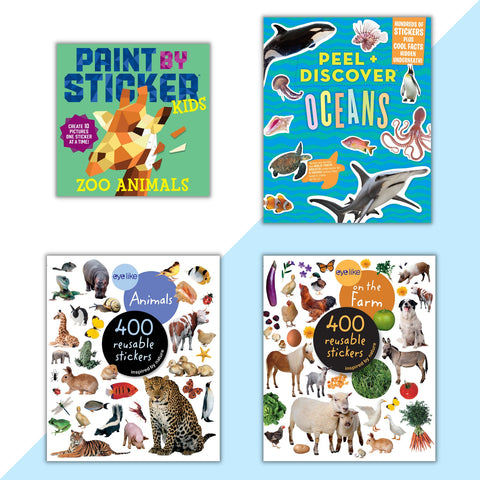 A Bundle of Sticker Fun!
Hours of sticker fun for kids!

Paint by Sticker Kids: Zoo Animals
Find the sticker, peel the sticker, place the sticker—and watch your animal paintings come to life! Includes everything you need to create ten sticker paintings on sturdy card stock. A favorite, mess-free kids' activity!

Peel + Discover: Oceans
Discover the world's oceans through hundreds of stickers! Peel each sticker to reveal a fascinating fun fact, and when all the stickers are peeled, remove the overlay for a full-page Peel+Discover surprise. Includes activity pages to color and sticker.

Eyelike Stickers: Animals
Over 400 irresistible, reusable, and collectible stickers to mix, match and trade! With all kinds of animals in full color, from antelopes and emus to weasels, yaks, and zebras. Reusable stickers are great for windows, notebooks, scrapbooks, and sticker play—hours of fun!

Eyelike Stickers: On the Farm
As much fun as a trip to the farm, here are 400 vibrant, full-color stickers including animals from cows to ducklings, farm-fresh fruits and vegetables, and scenes from the farm. Every sticker is reusable—perfect for crafting or for decorating, or for sticker play on printed scenes inside the covers.