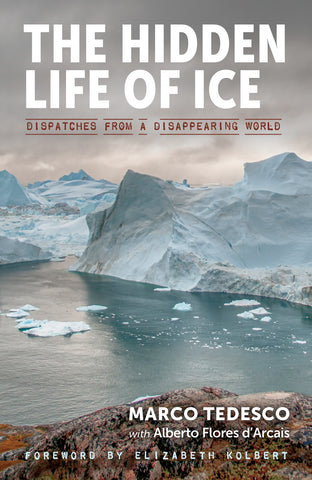 The Hidden Life of Ice
For most of us, the Arctic is a vast, alien landscape; for research scientist Marco Tedesco, it is his laboratory, his life's work—and the most beautiful, most endangered place on Earth.

Marco Tedesco is a world-leading expert on Arctic ice decline and climate change. In The Hidden Life of Ice, he invites us to Greenland, where he and his fellow scientists are doggedly researching the dramatic changes afoot. Following the arc of his typical day in the field, he unearths the surprising secrets just beneath the icy surface—from evidence of long-extinct "polar camels" to the fantastically weird microorganisms that live in freezing cryoconite holes—as well as critical clues about the future of our planet.

Not just a student of its secrets, Tedesco is an acolyte of the Arctic's beauty—its "magnificence and fragility," as Elizabeth Kolbert writes in her foreword. Alongside the sobering facts on climate change, Tedesco shares stunning photographs of this surreal landscape— as well as captivating legends of Greenland's earliest local populations, epic deeds of long-ago Arctic explorers, and his own moving reflections.

This is an urgent tribute to an awe-inspiring place that may be gone all too soon.