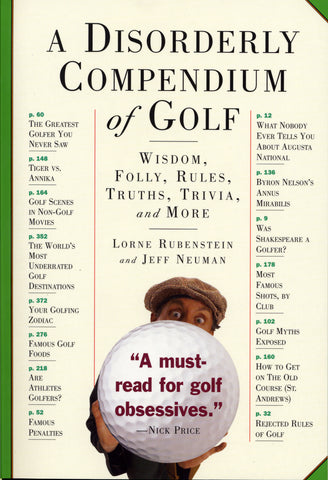 A Disorderly Compendium of Golf
The obsessive book about the obsessive game, and more fun to read than a green at Ballybunion. Written by two authors who have misspent their lives in thrall to the sport, A DISORDERLY COMPENDIUM OF GOLF digs into the odd, the fascinating, the historical, the random, the unexpected, and the curmudgeonly, and serves up hundreds of pages of lists, anecdotes, humor, surprises, and the sheer compelling minutiae of a game whose pleasure lies in the details.

It's all here, including history: oldest courses, top 5 money-winners at 10-year intervals, the importance of James II of Scotland. Colorful characters, like the hustler who would bet you that he could roll out of bed in the morning and make a 40-foot putt on his first try, and his secret for doing it every time. Odd rules: Did you know youmay take a free drop from a fireant hill but not from poison ivy? Good golf instruction—how to hit Phil Mickelson's trademark flop shot—and confusing golf instruction: Tom Watson says "Never feel you're reaching for the ball," while Johnny Miller advises" Reach for the ball. . . ." Embarrassing moments and helpful tips. The lexicon: professional caddie nicknames, terms for an ugly shot, names of golf balls. Plus gambling games, the grasses used in greens, unusual patents, Shakespearean quotes on golf, golf at midnight, longest and shortest holes . . . and more, and more.