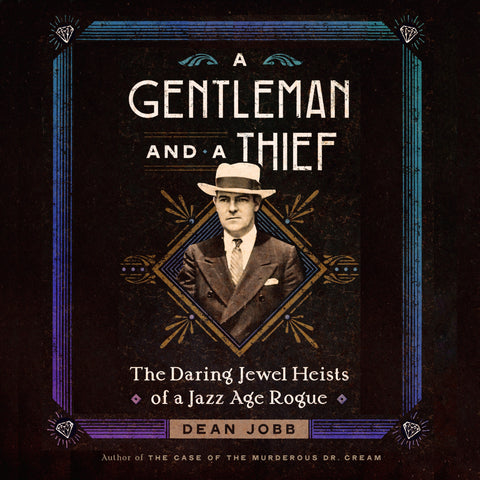 A Gentleman and a Thief
Catch Me If You Can meets The Great Gatsby meets the hit Netflix series Lupin in this captivating true-crime caper about Arthur Barry, "the greatest jewel thief who ever lived" (Life Magazine), who charmed celebrities and millionaires, stole from Rockefellers and royalty, and pulled off the most audacious and lucrative heists of the Jazz Age.  
 
A skilled con artist and one of the most successful burglars in history, Arthur Barry was adept at slipping in and out of bedrooms undetected, even when his victims slept only inches away. He became a folk hero, a gentleman bandit touted in the press as the "Prince of Thieves" and an "Aristocrat of Crime." Think Cary Grant in To Catch a Thief. In a span of seven years, Barry stole pearls, diamonds, and other precious gems worth almost $60 million today. Among his many victims were a Rockefeller, an heiress to the Woolworth Department Store fortune, an oil magnate, Wall Street bigwigs, a top executive of automotive giant General Motors, and a famous polo player. He befriended the Prince of Wales, Harry Houdini, and other luminaries. The rollicking, caper-filled rise and dramatic downfall of this master thief is a high-speed ride told in stylish prose.

A Gentleman and a Thief is also a love story. Barry confessed to dozens of burglaries to protect his wife, Anna Blake (and was the prime suspect in scores of others on Long Island and across Westchester County). Sentenced to a twenty-five-year term, he staged a dramatic prison break—triggering a bloody inmates' riot—when Anna became seriously ill, so they could be together for a few more years as fugitives. Page-turning, escapist, and sparkling with insight into the allure of gemstones and our fascination with well-planned heists and the suave, clever criminals who pull them off, A Gentleman and a Thief is perfect for true crime fans who relish the exploits of con artists and high-class crooks.