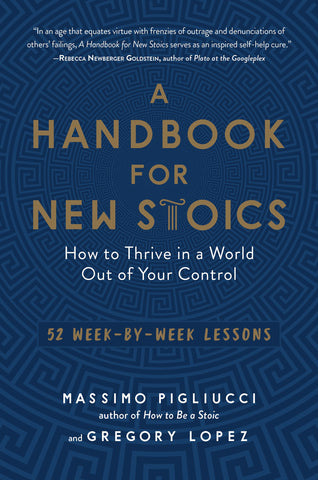 A Handbook for New Stoics
A pragmatic philosophy more popular than ever—here are 52 ancient lessons to help you overcome adversity and find tranquility in the modern world

Stress often comes from situations that are beyond our control—such as preparing for a meeting, waiting for test results, or arguing with a loved one. But we can control our response to these everyday tensions—through the wisdom and practice of Stoicism.

Stoicism is an ancient pragmatic philosophy that teaches us to step back, gain perspective, and act with intention. In A Handbook for New Stoics, renowned philosopher Massimo Pigliucci and seasoned practitioner Gregory Lopez provide 52 week-by-week lessons to help us apply timeless Stoic teachings to modern life.

Whether you're already familiar with Seneca and Marcus Aurelius, or you're entirely new to Stoicism, this handbook will help you embrace challenges, thrive under pressure, and discover the good life!