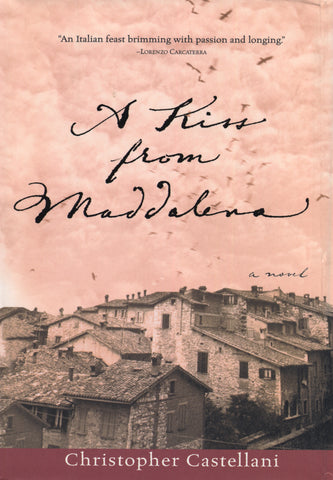 A Kiss from Maddalena
It is 1943, and Santa Cecilia has become a village of women. All the young men are away at war, except for Vito Leone, his best friend, and the shopkeeper's son. When Vito falls in love with Maddalena Picinelli, the shy and beautiful daughter of the town's most powerful family, a few obstacles appear in his path. Maddalena's sassy, iron-willed sister Carolina thinks he's a penniless fool. Her parents think his crazy mother has turned him into a mammoni, a mama's boy. But Maddalena sees another side of Vito. He's romantic. He builds a bicycle for the girls to ride. He takes care of his feeble mama, who hasn't been the same since her husband and daughters ran off to America. And Vito is determined to win Maddalena's hand even though she has three older sisters who must be married off first.
When the Italians surrender to the Allies and German soldiers invade Santa Cecilia, everyone flees but Vito and his mother. With ingenuity and boundless devotion, Vito comes up with a plan to prove that he's a suitable suitor. The Picinelli family returns home after the war to find that some miraculous changes have taken place. Now, only one man stands in Vito's way, and Maddalena is forced to choose between her family's wishes and her own heart.
In the spirit of Corelli's Mandolin and Chocolat, A KISS FROM MADDALENA is a captivating novel that celebrates the beauty of life and the passions of youth.