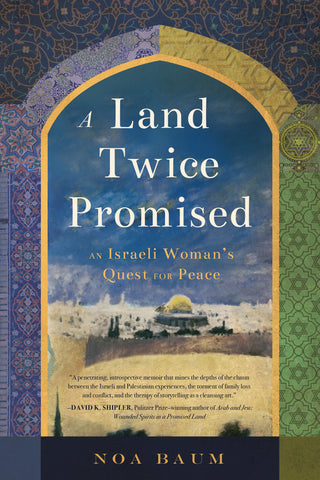 A Land Twice Promised
Israeli storyteller Noa Baum grew up in Jerusalem in the shadow of the ancestral traumas of the holocaust and ongoing wars. Stories of the past and fear of annihilation in the wars of the '60s, '70s, and '80s shaped her perceptions and identity. In America, she met a Palestinian woman who had grown up under Israeli Occupation, and as they shared memories of war years in Jerusalem, an unlikely friendship blossomed.
A Land Twice Promised delves into the heart of one of the world's most enduring and complex conflicts. Baum's deeply personal memoir recounts her journey from girlhood in post­-Holocaust Israel to her adult encounter with "the other." With honesty, compassion, and humor, she captures the drama of a nation at war and her discovery of humanity in the enemy.  
Winner of the 2017 Anne Izard Storytellers' Choice Award, among others, this compelling memoir demonstrates the transformative power of art and challenges each reader to take the first step toward peace.