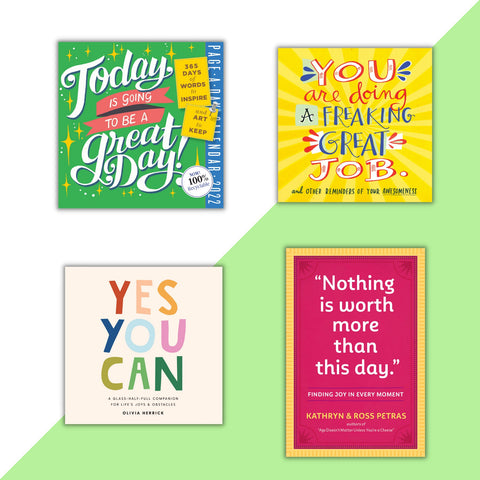 A Little Inspiration Gift Set
Website exclusive 4-item book and calendar set.

Give the gift of a morale boost, or put a book on your own coffee table to lift your spirits! Here are three warm and encouraging books and a bright and inspiring 2022 calendar that say "you're doing great!" 
You're Doing a Freaking Great Job is a pat on the back in book form, with dozens of inspiring, uplifting quotes rendered as beautiful hand-lettered art by more than 30 popular graphic designers and artists. It's motivation and affirmation made timeless.  

Yes, You Can includes reflections, meditations, and encouragements for daily life—all designed in the unique and modern style of the popular Instagram account @oliviaherrickdesign  If you're feeling down on yourself, not sure where to start, or already on the road to success, there is a page for you.  

Nothing Is Worth More Than This Day is packed with hundreds of reminders from some of the smartest people who ever lived—from Dr. Seuss to Erma Bombeck, Thich Nhat Hanh to Lena Dunham—that happiness is everywhere and the glass is half-full. It's the perfect gift of optimism, for good times and not-so-good times.

Today is Going to Be a Great Day Page-a-Day Calendar 2022 offer pure positivity for every day of the year, featuring a daily quote or affirmation in a delightful mix of styles and designs to bring the words vibrantly to life: from "Progress is the law of nature" (Booker T. Washington) to "You Are the Cat's Meow" to "The Magic Is Inside You—There Ain't No Crystal Ball" (Dolly Parton). The pages are designed to be torn off at the end of each day and attached to the wall, creating your very own gallery of inspiration and optimism. Now 100% recyclable and printed on FSC-certified paper.