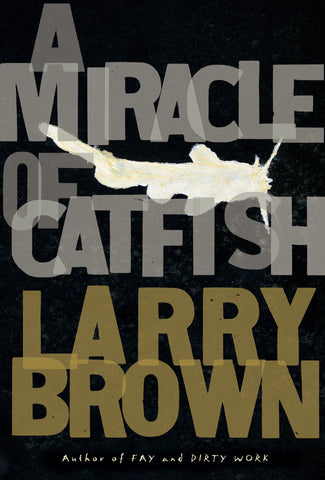 A Miracle of Catfish
Larry Brown has been a force in American literature since taking critics by storm with his debut collection, Facing the Music, in 1988. His subsequent work—five novels, another story collection, and two books of nonfiction—continued to bring extraordinary praise and national attention to the writer New York Newsday called a "master."

In November 2004, Brown sent the nearly completed manuscript of his sixth novel to his literary agent. A week later, he died of a massive heart attack. He was fifty-three years old.

A Miracle of Catfish is that novel. Brown's trademarks—his raw detail, pared-down prose, and characters under siege—are all here.

This beautiful, heartbreaking anthem to the writer's own North Mississippi land and the hard-working, hard-loving, hard-losing men it spawns is the story of one year in the lives of five characters—an old farmer with a new pond he wants stocked with baby catfish; a bankrupt fish pond stocker who secretly releases his forty-pound brood catfish into the farmer's pond; a little boy from the trailer home across the road who inadvertently hooks the behemoth catfish; the boy's inept father; and a former convict down the road who kills a second time to save his daughter.

That Larry Brown died so young, and before he could see A Miracle of Catfish published, is a tragedy. That he had time to enrich the legacy of his work with this remarkable book is a blessing.