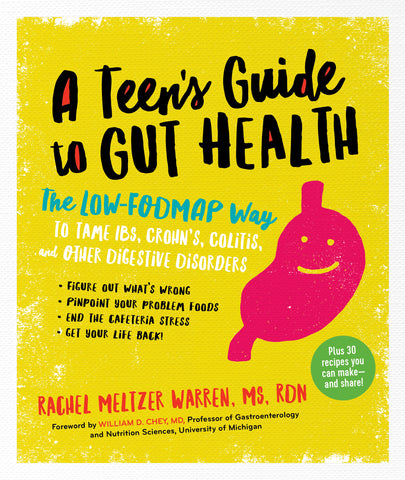 A Teen's Guide to Gut Health
Take charge of your gut health now with the low-FODMAP diet.

Are you a teen dealing with stomach problems? If so, you're not alone! Fourteen percent of high school students have symptoms of IBS—such as pain, bloating, and frequent trips to the bathroom. Plus (as if that weren't bad enough!), poor gut health can mean missed school days and trips, awkward explanations, extra doctor's visits, and major cafeteria confusion. Here's the good news: In A Teen's Guide to Gut Health, registered dietitian Rachel Meltzer Warren explains how you can find relief—on a low-FODMAP diet.
GET DIAGNOSED: Whether it's IBS, Crohn's disease, colitis, or something else, Rachel Meltzer Warren explains the differences and who can help.
GET FODMAP SAVVY: "FODMAPs" are certain carbs that can be hard to digest, and they lurk in many kinds of goodfor-you food, from apples to yogurt. Identify your triggers and learn to avoid them—with a twopart elimination diet, shopping lists, meal plans, and more.
GET YOUR QUESTIONS ANSWERED: No topic is too embarrassing for Meltzer Warren. You'll also find "Real Talk" from real teens throughout!
GET COOKING! Plus, 30 simple, gluten-free recipes that are low-FODMAP-approved and great for meals, snacks, and sharing.