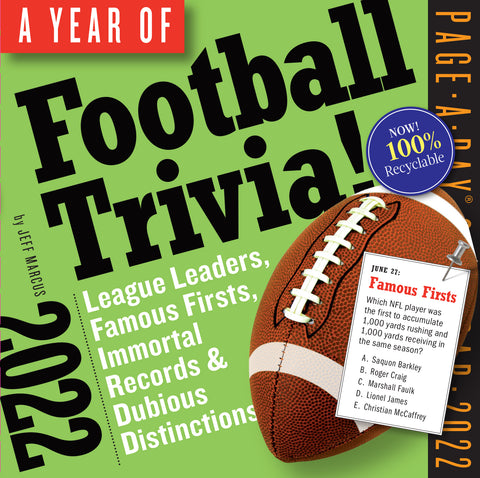 A Year of Football Trivia! Page-A-Day Calendar 2022
The stocking stuffer for gridiron fanatics: an obsessive year of stats, lore, unexpected trivia, and more.

A calendar that's as crazy about football as the most crazed football fan, celebrating the game with a packed year of stats, unbeatable records, larger-than-life personalities, trivia quizzes, and all things Super Bowl. Famous Firsts: Which teams played in the first Super Bowl on January 15, 1967, and who won? (Green Bay beat Kansas City, 35–10.) Dubious Distinctions, including Bears' kicker Cody Parkey's infamous "double doink" miss that led to Chicago's 16–15 playoff loss to Philadelphia. Plus Football Families, Legendary Games, League Leaders, Notable Coaches, Football and Culture, and quotes: "One thing I'd say. I'd hate to play us."—Auburn coach Tommy Tuberville. Now 100% recyclable and printed on FSC-certified paper.