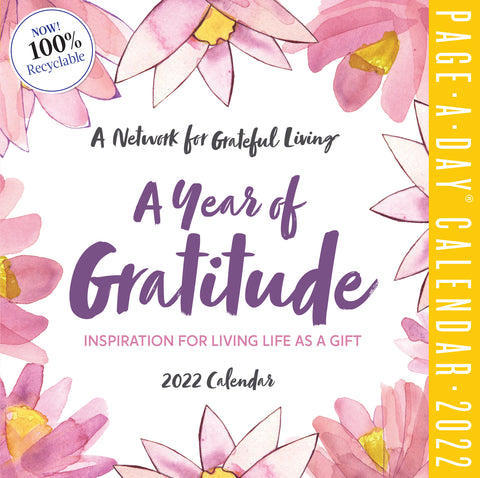 A Year of Gratitude Page-A-Day Calendar 2022
Like a gratitude journal in a calendar—a daily reminder that life is a gift.

No matter what's happening in the world around us, there are always reasons for gratitude. Inspired by the book Everyday Gratitude by A Network for Grateful Living—a global nonprofit organization that promotes mindful gratitude—this calendar features a year of quotes, prompts to inspire contemplation, and Grateful Practices to lift your spirits. Write down your most meaningful experiences and keep them in a jar to reflect on later. Rather than look externally, tap into the happiness inside you. And ponder wise words from wise people, including Ralph Ellison: "Nothing, storm or flood, must get in the way of our need for light and ever more and brighter light. The truth is the light and light is the truth." Printed on FSC-certified paper and 100% recyclable.