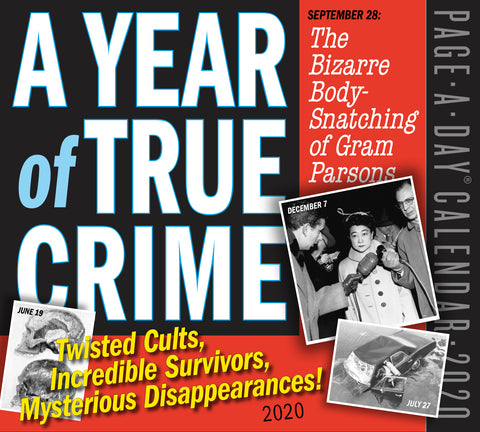 A Year of True Crime Page-A-Day Calendar 2020
A campy calendar for those with an insatiable thirst for thrills.

It'll reel you in, one juicy, twisted story after the next. Featuring the news headlines that catch your eye, and then keep you up at night, A Year of True Crime offers day after day of gruesome intrigue to pique your morbid curiosities. There are gritty tales about the 1990's Clown Killer (on the loose until 2017), and the Rotenburg Cannibal, who lured victims online in the early aughts. Plus, trivia, like the inspiration behind the Silence of the Lambs' Buffalo Bill (he was a fictional amalgam of numerous serial killers) and games: Match the criminals to the film inspired by their crimes. Here are all the gory details—serial killers, cannibal fetishists, occult followers, and innocent hitchhikers who didn't stand a chance—with a tabloid-style page design, and photographs throughout.  For fans of Law & Order: SVU, Serial, and pulpy tabloids, this gift will hit all the right spine-chilling notes.