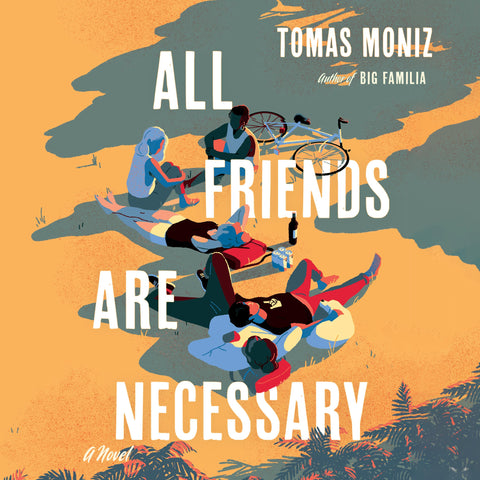 All Friends Are Necessary
In this joyous, big-hearted novel, Tomas Moniz—a finalist for the PEN/Hemingway and Lambda Literary awards—delivers a commanding new story about the power of friendship, community, and the families we create for ourselves.

Efren "Chino" Flores has just moved back to the Bay Area from Seattle, jumping from sublet to sublet. In Washington, he was a beloved middle school biology teacher with a loving wife, and a child on the way until a stunning loss changed his life. Now, he's working temp jobs, terrified of commitment, and struggling to put himself back out into the world.

But there to nurture Chino is a coterie of new and old friends and lovers who form a protective web around him. Closest to him are Metal Matt, a red-haired metalhead with a soft spot for Courtney Love and a rangy dog named Sabbath, and Mike and Kay, a couple whose literary edge is matched only by the success of their secret OnlyFans account. As Chino begins to date more men and women—and to open himself up again to love—his bonds with other people grow both rich and profound. Like a fern blooming in the wake of a forest fire, new life comes after even the most devastating upheaval.

With gorgeous, heart-rending detail and a seemingly infinite catalogue of tender, unexpected interactions, Tomas Moniz has created a striking mosaic of desire and belonging that will appeal to fans of Garth Greenwell, Jaquira Díaz, and Patricia Lockwood. An anthem to both queer and platonic love, All Friends Are Necessary evinces the wonder of friendship and the joy of giving yourself up to the essential force of community.