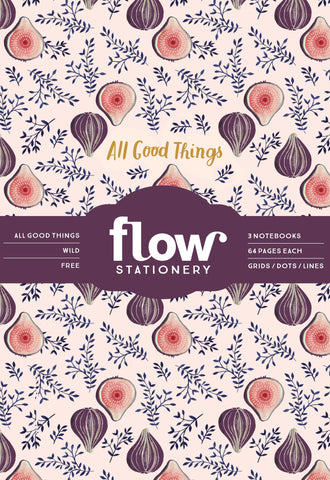 All Good Things Are Wild and Free Notebook Set
A stunning set of notebooks for journaling, sketching, and brainstorming, from Flow, the brand that celebrates creativity, mindfulness, and the pleasures of paper.Includes:
Set of 3 notebooks: 1 graph paper notebook, 1 dot grid notebook, and 1 ruled notebook
Textured covers with 3 different designs and foil stamping
64 pages each
Printed on FSC-certified paper
This set of three elegantly designed notebooks, inspired by the Henry David Thoreau quotation "All good things are wild and free," suits all of your creative needs.
All Good Things
helps you work through bright ideas;
Wild
allows you to release your thoughts on paper; and
Free
encourages you to let go and reach your goals.
The full
All Good Things Are Wild and Free
stationery line includes: 1000-piece jigsaw puzzle, sticker book, stationery set, daily tracker, wrapping paper and gift tags, sticky notes, sketchbook, and notebook set.