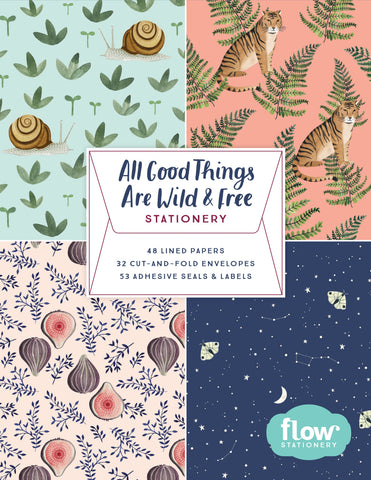 All Good Things Are Wild and Free Stationery
 
A stationery set including paper, envelopes, and seals and labels inspired by nature, from Flow, the international brand that celebrates creativity, mindfulness, and the pleasures of paper.
Slow down, compose your thoughts, and savor the experience of writing real letters using this beautiful stationery set with lined paper in whole and half sizes, and envelopes to cut and fold. Illustrated by Dutch artist Valesca van Waveren, the designs are inspired by the Henry David Thoreau quotation "All good things are wild and free," and recall the simple joys of nature: pressed flowers, industrious bees, ocean-worn shells, sweet figs, noble tigers, and more. Snail mail is alive and well!
Includes:
46 sheets of lined notepaper printed with different full-color patters on the reverse
32 full-color envelopes in two sizes to fold
48 full-color illustrated adhesive labels and seals
The full
All Good Things Are Wild and Free
stationery line includes: 1000-piece jigsaw puzzle, sticker book, stationery set, daily tracker, wrapping paper and gift tags, sticky notes, sketchbook, and notebook set.