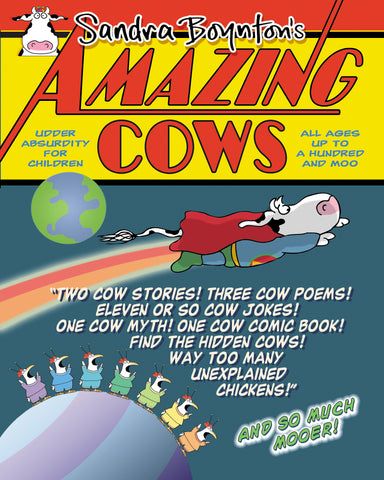 Amazing Cows
Cow stories, cow poems, cow jokes, cow games and a few chickens.
From Sandra Boynton—as it could only come from Boynton—an inventive exuberant jumble of a book for the young reader. Amazing Cows is a picture book, a storybook, a book of fun and games—it's all those things in one. Plus it even includes a startling recording of Maurice Ravel's "Bolero Completely Unraveled for Orchestra and Kazoos" performed by Sandra Boynton & The Highly Irritating Orchestra, for download. (Running time is 17:14, but seems MUCH longer.)

A work of pure obsession, Amazing Cows celebrates cows and offbeat cowness with a miscellany of cow stories, cow poems, cow jokes, and other bovine ephemera. Along the way, expect lively guest appearances by ducks, pigs, and excessive numbers of chickens. There's a song: "It Had to Be Moo." A game: "Find the Hidden Cows." Famous Barnyard Composers (surely you've heard of Wolfgang Amadeus Moozart and Johann Sebastian Bockbockbock). Knock-knock jokes, a cow myth, and an Amazing Cow comic-book adventure: "Trouble on Zebblor 7." Cow fashion. Cow Limericks. How to Speak Cow. Plus so much mooer.

Amazing Cows is full-color, 96 pages long, and packed with the kind of silly fun that young readers adore, especially when they can read it to themselves—and then read it to their parents, and then to their little brothers, and then to the family dog. Or the family cow.