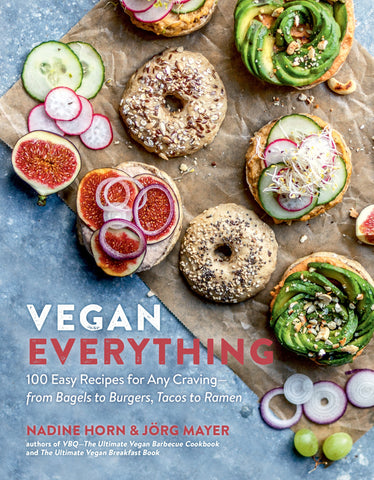 Vegan Everything
If you can crave it, you can cook it!
100 easy, eclectic recipes to feed you all day, every day
Whatever you may be craving for dinner tonight—pizza, burgers, quesadillas, ramen, dumplings, curries, falafel, jambalaya—you can make—totally vegan, completely delicious, and faster than you'd have thought possible. But you won't just find delectable dinners here. From breakfast to dessert, Nadine Horn and Jörg Mayer have got you covered—from savory breakfast waffles to classic French toast, decadent mocha cupcakes to chocolatey brownies and beyond.   
Here are 100 vegan versions of your favorite comfort foods, plus fun new inventions and healthy options that are perfect for everyday eating:
Quick meals: Coconut Farro, Bánh Mì Deluxe, Sesame Noodles
Easy recipes: Speedy Ramen, Overnight Oats, Peanut Truffles
Party hits: Ginger Nori Cakes, Antipasto Pizza Bites, Berry Cheesecake
Exciting global fusions: Bavarian Samosas, Mexican Paella, Thai Tempura
This is Vegan Everything—the only vegan cookbook you'll ever need.