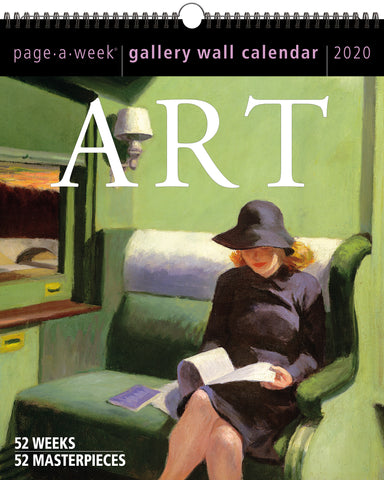 Art Page-A-Week Gallery Wall Calendar 2020
Your own private wall gallery of fine-art prints.

Every week, the Art Page-A-Week Gallery Wall spotlights a new exquisite painting to behold, beautifully reproduced in rich, mesmerizing color. There are beloved favorites—including Edward Hopper's mysterious, elegant Compartment C, Car 293 on the cover—as well as intriguing discoveries: an intimate, personality-capturing portrait by Modigliani. A richly detailed wedding scene by Pieter Brueghel the Younger. And Klimt's iconic, gilded Portrait of Adele Bloch-Bauer I. For the art lover, it's an inspiring collection of masterpieces to recognize and admire week after week—at a scale that invites the gaze to spy never-before-noticed details. A year of visual pleasure, and a splendid gift for art connoisseurs.

Page-a-Week® Gallery Wall Calendars feature art book design, heavy-coated paper stock, and rich, full-color photographs. 52 breathtaking, poster-style images are like works of art for your wall, complemented by a practical weekly grid.