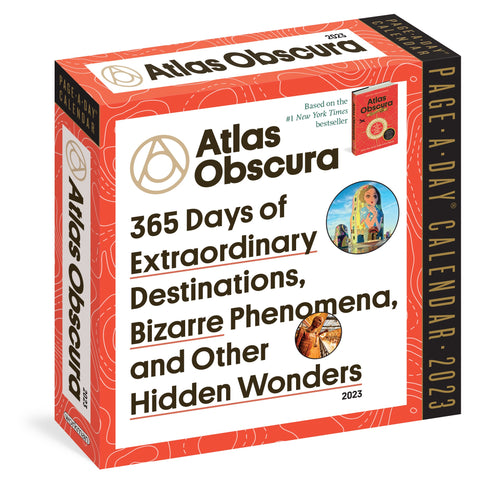 Atlas Obscura Page-A-Day Calendar 2023
For adventurers and anyone who loves the obscure and off-the-beaten path.

Feed your sense of wonder with a year-long tour of unusual destinations, events, and global phenomena, adapted from the hugely popular website and #1 bestselling book Atlas Obscura. Travel into the earth—and back in time—with a meal at Arizona's Caverns Grotto restaurant, located 21 stories down in the Grand Canyon Caverns, which formed before the Grand Canyon itself. In Lake Geneva, Wisconsin, roll your D&D die at the memorial stone for Dungeons & Dragons creator Gary Gygax. And marvel at the beauty of Mexico's Hierve el Agua, a rock formation that looks just like a frozen waterfall. Plus Brazil's Wish Tree, Latvia's boat graveyard, and Sofia, Bulgaria's Museum of Socialist Art, housed in a fittingly utilitarian building. Totally curious—and totally fascinating. Printed in Thailand on responsibly sourced paper and 100% recyclable.