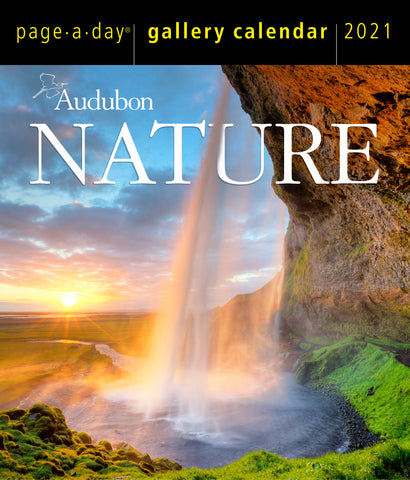 Audubon Nature Page-A-Day® Gallery Calendar 2021
The glory of the natural world paired with the sumptuous photography that distinguishes the gallery calendar format.

Here are flora, fauna, and phenomena from all corners of planet Earth, exquisitely captured by the world's best nature photographers. Waterfalls cascade over tree-studded cliffs in Croatia's Plitvice National Park. A trio of monkeys perch vigilantly on a limb in Ghana. A colorful Painted Bunting sings his song in an Oklahoma wildlife refuge. And a field of vivid poppies bloom under a cloud-dotted sky in Germany. This is nature at its most pristine and inspiring—and a fantastic gift for wildlife lovers.  

Page-a-Day® Gallery Calendars include 160 sheets of glossy, high quality paper printed with gorgeous full-color photographs. Each calendar is packaged in a clear plastic box that opens into a desktop easel for elegant, inspiring display. Printed on FSC-certified paper.