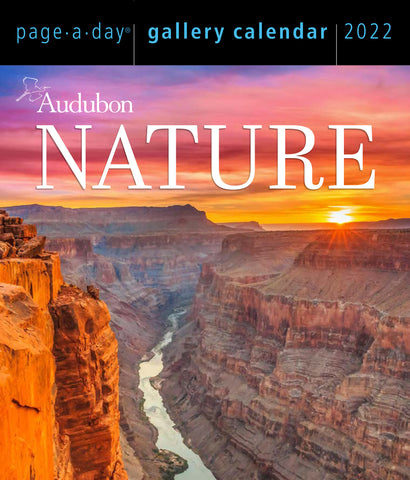 Audubon Nature Page-A-Day Gallery Calendar 2022
The gift for the discerning nature lover.
 
A stunning combination: The exquisite photography and uncompromising production standards of the gallery calendar format married to the most  transporting flora, fauna, and other wonders of nature from all around planet Earth. A hippo and her baby peer out from the water at South Africa's Kruger National Park. Ponderosa pines sprout precariously from deep canyons at New Mexico's Kasha-Katuwe Tent Rocks National Monument. Punch Bowl Falls pours into the impossibly clear water of the Columbia River Gorge. And a pair of Arctic Terns soar over a field of yellow buttercups. It's a true gift for nature lovers—a wilderness escape, every day. Printed on FSC-certified paper. 

Page-a-Day® Gallery Calendars include 160 sheets of glossy, high quality paper printed with gorgeous full-color photographs. Each calendar is packaged in a clear plastic box that opens into a desktop easel for elegant, inspiring display.