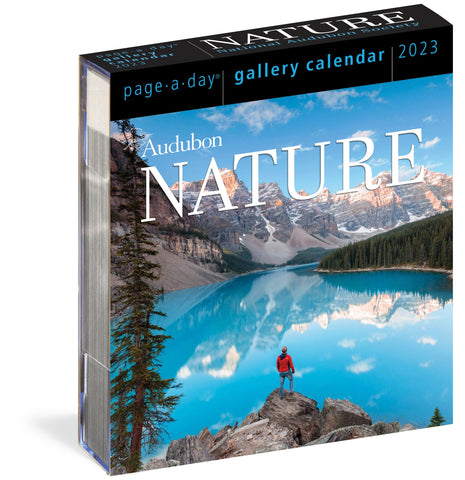 Audubon Nature Page-A-Day Gallery Calendar 2023
With every glance, escape to the natural world.

Combining the stunning, full-color photography and high production standards of the Gallery line with the expertise of the National Audubon Society, Nature showcases the world at its most pristine. Here is day after day of spectacular landscapes, plus all the other wonders we find in the great outdoors. The breathtaking Grand Teton mountain range. A stunning Arctic Fox in Alaska blends into the wintry landscape. A herd of wildebeest thunder under a red East African sky. And pure paradise: The sun rises over the Needles rock monoliths at Oregon's Cannon Beach. A fabulous gift for nature lovers, this calendar is a reminder of what remains—and what must be preserved. Printed on responsibly sourced paper.

Page-a-Day® Gallery Calendars include 160 sheets of glossy, high quality paper printed with gorgeous full-color photographs. Each calendar is packaged in a clear plastic box that opens into a desktop easel for elegant, inspiring display.