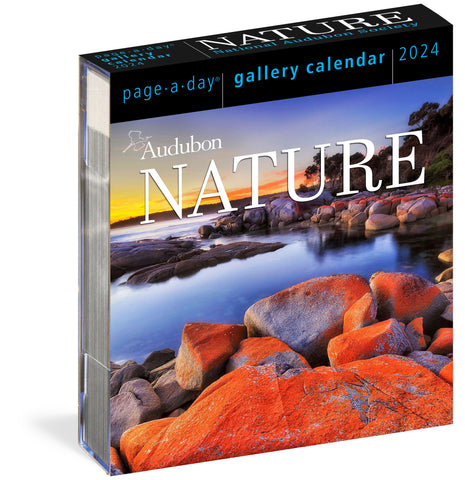 Audubon Nature Page-A-Day Gallery Calendar 2024
Like a photo gallery for your desk, packed with beautiful images of the natural world in an elegant format. 
Discover nature's most stunning landscapes, flora, fauna, and other wonders showcased through the exquisite photography and exacting production standards of the Gallery line. From the experts at the National Audubon Society, here is a year of treasures from the natural world. The soft, brown eyes of a Bearded Seal. The beautiful curve of a Humpback Whale fluke, captured up close. King Penguins in the Falkland Islands. And pure paradise: A Lupine meadow in Grand Teton National Park. This is the world at its most majestic—and the gift of daily escape for the nature lover. Printed on responsibly sourced paper.

Page-a-Day® Gallery Calendars include 160 sheets of glossy, high quality paper printed with gorgeous full-color photographs. Each calendar is packaged in a clear plastic box that opens into a desktop easel for elegant, inspiring display.