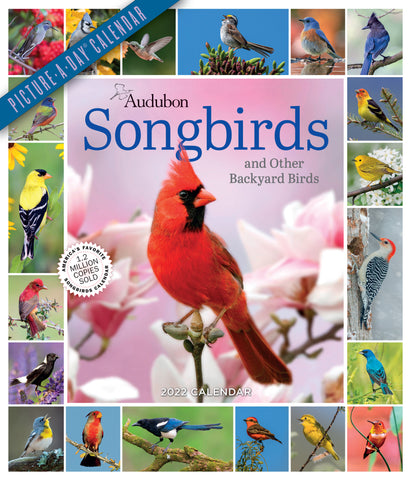 Audubon Songbirds and Other Backyard Birds Picture-A-Day Wall Calendar 2022
Go birding—no binoculars required.

It's the calendar that offers passionate birders a daily sighting as refracted through the expertise of Audubon, the organization synonymous with birds. Audubon Songbirds & Other Backyard Birds celebrates the small, jewel-like avian species whose color and song brighten meadows, woods, and our own backyards. A Black-capped Chickadee perched on a snow-dusted pine branch. A delicate hummingbird hovering in front of a flower.  An American Robin—always a welcome harbinger of spring. Each month's spread features a large image at the top of the page and dozens of smaller pictures throughout the grid below. Detailed text discusses species characteristics, calls, habitats, migration patterns, and more. Printed on FSC-certified paper.