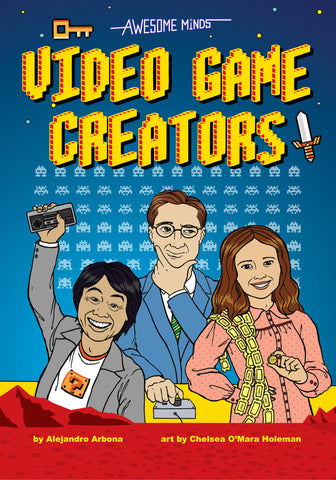 Awesome Minds: Video Game Creators
Did you know that Nintendo started in the mid-19th century as a playing card company and that the Japanese giant also sold rice and operated taxi cabs? And did you know that the very first video game was called Tennis for Two and was created by a US government scientist named William Higinbotham?

Today, video games play a gigantic role in our culture and none of this would have been possible without people like Shigeru Miyamoto, the creative mastermind that turned a failed business venture into the game that eventually inspired him to build Donkey Kong and Mario Bros., or Donna Bailey, who created the arcade video game sensation Centipede. With full-color illustrations and lively text, and chock-full of interesting facts, Awesome Minds: Video Game Creators tells the stories of these amazing men and women who turned a small hobby into a multimillion-dollar industry that changed the way we play and interact, from our living rooms to the arcades, on our computers to our handheld devices. Awesome Minds: Video Game Creators is the perfect read for those with creative spirits, curious minds, and a love of technology and video games.