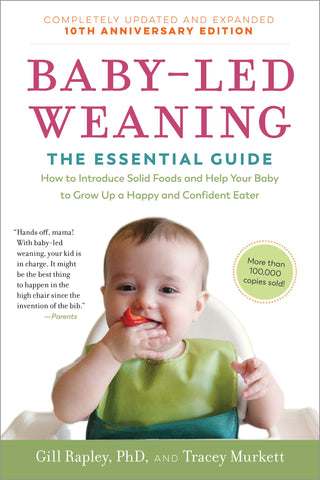 Baby-Led Weaning, Completely Updated and Expanded Tenth Anniversary Edition
From the founders of Baby-Led Weaning: This is the authoritative guide to starting solid foods at your child's pace—as they start the transition away from breastmilk or formula as early as 6 months—with no stress, no fuss, and no mush!
Ten years ago,
Baby-Led Weaning
ended the myth that babies need to be spoon-fed purées. In fact, at about six months, most babies are ready to discover solid food for themselves. Today, baby-led weaning (BLW) is a global phenomenon—and this tenth anniversary edition of the definitive guide explains all its benefits:
Baby participates in family meals right from the start, and learns to love a variety of foods.
Nutritious milk feedings continue while Baby transitions to solids at his or her own pace.
By self-feeding, Baby develops hand-eye coordination, chewing skills—and confidence!
Plus, this edition is updated with the latest research on allergy prevention and feeding Baby safely, a guide to using BLW at daycare, and much more. Here is everything you need to know about teaching your child healthy eating habits that will last a lifetime.