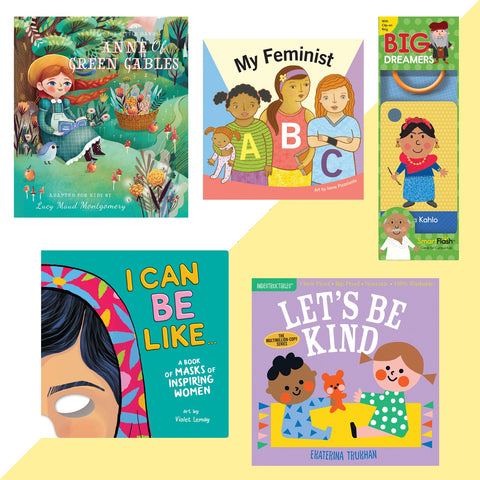 Baby's First Library Set
Introduce your little one to a love of books, plus interesting people and big ideas, with this set of board books and flash cards just for the youngest readers.

Indestructibles: Let's Be Kind
Learn kindness and manners in this book that's truly indestructible! Chew proof, rip proof, nontoxic, and 100% washable!  

I Can Be Like. . . A Book of Masks of Inspiring Women
Bright illustrations and die-cut mask holes let the reader "wear" the book and become one of six inspirational women, inlcuding Malala Yousafzai, Michelle Obama, and Frida Kahlo.

My Feminist ABC
E is for Equal Rights, G is for Girl Power (and Grit)! An inspiring board book teaches little ones an alphabet of female (and human) values.
Big Dreamers SmartFlash™—Cards for Curious Kids
Discover 26 historical icons with beautifully illustrated flashcards featuring inspirations like Rosa Parks, Marie Curie, Mahatma Gandhi, Pablo Picasso, and more.

Lit for Little Hands: Anne of Green Gables
Lavishly illustrated and filled with interactive wheels and pull-tabs, a perfect child's introduction to the heartwarming, classic novel.