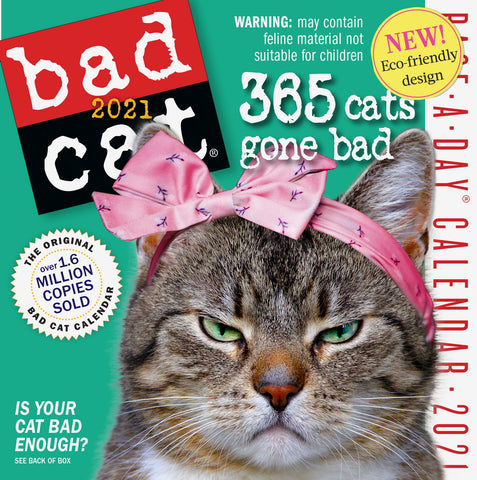 Bad Cat Page-A-Day Calendar 2021
The dark side of cat calendars based on the #1 New York Times bestselling book, here's a year of appalling feline behavior captured in terrifying full color.

They're rude. They're nasty. They're stinky. They're inappropriate. And they're downright hilarious. There are so many ways for formerly sweet kitties to go wrong! Here are cats forced into tutus and out for revenge. Cats exhibiting catnip-seeking behavior. Cats dressed unconvincingly as bunny rabbits. Plus Bad Cat Diet Secrets, Who's Who in Bad Cats, Least-Wanted Bad Cats, and Bad Cat Early Warning Signs, including Cat's pent-up rage level begins to overtake seasonal cheer level. Just try to look away!

Printed on FSC-certified paper and introducing a new eco-friendly cardboard backer.